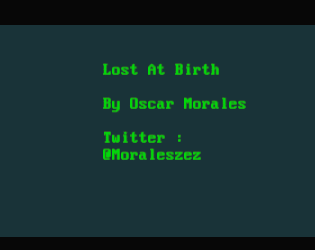 Lost At Birth
Lost At Birth is a game about exploration. Explore this null part of the human brain. There are a many mysteries there.

How To Play :
Use WASD or Arrow keys to move
Mouse to look around
If you find something of interest left click it with a mouse.

If you have more than one spell you can Press F to switch.
*If you get stuck on some terrain Press P to teleport back to beginning*

Press Escape to Exit the Game while in game

Facts : The game was made during a game jam for Guatemala's Independence day.


If you have any questions about the game you can reach my Twitter @Moraleszez
Download